Welcome to Memphis Calligraphy Guild
The Memphis Calligraphy Guild is a non-profit society organized to promote the study, practice and appreciation of calligraphy and related arts. We meet monthly  at 6:30 P.M. on the first Monday of every month – EXCEPTION: In January, July, and September, we meet on the second Monday. Please check our calendar page for dates and program topics.
In addition to meetings, the Guild sponsors workshops several times a year. Many of our members are available for additional classes and commissioned work. We also host Calligraphy 101 beginner-level classes open to the public.
So, if calligraphy is your passion, we invite you to join the Memphis Calligraphy Guild and share the world of beautiful writing with us.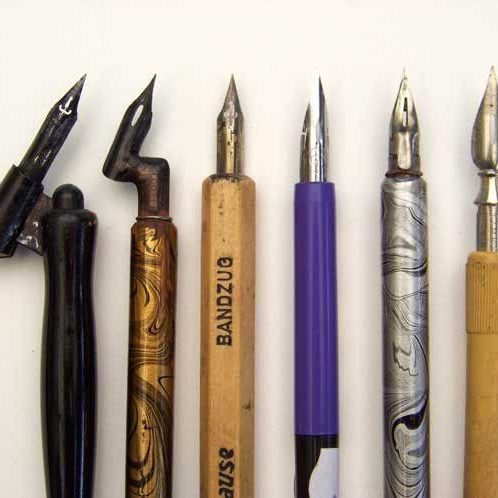 Upcoming Events and Meetings
Join us for our next event or contact us for more information on how to become part of the Memphis Calligraphy Guild.
Calendar
| | | | |
| --- | --- | --- | --- |
| November 7, 2022 | 6:30 P.M. (doors open at 6:00. | MCG Monthly Meeting - Embellished Borders with George Harmeling | IN-PERSON: Church of the Holy Communion - 4645 Walnut Grove Rd. Park in front of the church and enter the office building through the main entrance which faces Walnut Grove Rd. |
| October 3, 2022 | 6:30 P.M. (doors open at 6:00. | MCG Monthly Meeting - Clothesline Lettering with Ann Rabinovitz | IN-PERSON: Church of the Holy Communion - 4645 Walnut Grove Rd. Park in front of the church and enter the office building through the main entrance which faces Walnut Grove Rd. |
| September 24, 2022 | 9 a.m. - 12noon | MINI WORKSHOP - Make a Book and Learn to Sew a Decorative Woven Spine | IN-PERSON: Northeast Precinct/Memphis Police Dept., Whitten Road at 6850 Appling Farms Pkwy. 38133 |
| September 17-18, 2022 | 9 a.m. - 4 p.m. Saturday & Sunday | FALL WORKSHOP - Peggy Kunkel Teaches the St. John's Bible Specially Designed Calligraphic Script by Donald Jackson. | IN-PERSON: Northeast Precinct/Memphis Police Dept., Whitten Road at 6850 Appling Farms Pkwy. 38133 |
| September 12, 2022 | 6:30 P.M. (doors open at 6:00) | MCG Monthly Meeting - Tips 'n' Tricks for Layout & Design | Leigh Ann Dye | IN-PERSON: Church of the Holy Communion - 4645 Walnut Grove Rd. Enter building from EAST parking lot. Go up one level to Room 301 via elevator or stairs. |